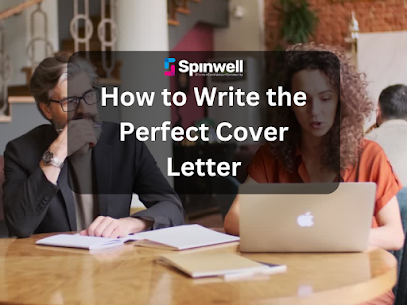 A cover letter should consist of a page that is addressed to the interviewer and encloses your interest in the role you are applying for. Along with your contact information, it should include details that could be found on your CV.
The purpose of a cover letter is to market yourself by expressing your skills, qualifications, and experience (in relation to the job description). This is to set you apart from other candidates, proving you are the best fit for the role.
Writing a Cover Letter
Express your current employment status and why you are looking to work elsewhere  
Every candidate has different reasons for choosing to apply for new roles. If you are currently employed, it is best to express the reason behind your decision to look elsewhere. Reasons could include wanting more experience, a change in work environment, or a personal interest.
Addressing your cover letter  
Ensure that your letter is addressed to the appropriate hiring manager. If you find yourself in a situation where you do not know the name of your hiring manager, it is best to simply begin your letter with 'To whom it may concern'.
Why should they choose you?
Use your cover letter as an opportunity to express why you are the best candidate for this role. Highlight your strengths, be it through your accomplishments, experience, skills, qualifications, or personality traits.
This is also a good chance to showcase the research you have done into studying the company, its culture, how it aligns with your interests and skills, and what you can bring to the table to enhance the company's image and performance.
Grammar and spelling mistakes 
Make sure that your letter is brief and free of grammatical errors and spelling mistakes. Think of a cover letter as a direct reflection of you as an employee and your attention to detail.
Closing Statements
Express your willingness to join the team and be a great addition to the company. Let them know that you are available to be contacted at any point and invite them to get back in touch with you.
A sample cover letter
Dear <<Name of Hiring Manager>> / To whom this may concern,
I am writing to you with regard to the advertisement for the role of Senior Project Manager on https://www.spinwellglobal.com/vacancies/vacancy-search-results.aspx Attached below is a copy of my CV.
Listed below are my qualifications and experiences that match the job description: 
Master's Degree level education or equivalent in a relevant subject or demonstrable significant relevant experience.
PRINCE2 Practitioner or equivalent. 
Proven experience in leading complex projects.
Experienced in a staff management role.
Experience in programme management.
Experience in implementing change.
Experience in managing project budgets and managing project change.
In my current/most recent role, my responsibilities included:
Supporting the PMs to ensure that all projects deliver the required outcomes at the required quality within the constraints of time and cost.
Responsible for the successful delivery of complex digital projects and transformation enablers.
Leading the development, management, and implementation of a wide portfolio of schemes.
Analysis of complex datasets; communications planning; managing changing demands; and benefits tracking.
I believe I have the relevant experience and skills required for the Senior Project Manager role that goes hand in hand with the requirements that this particular role entails. I am confident that I will be a valuable asset and a great addition to <<insert company name>> and the values it holds.
If you have any questions, please feel free to contact me at your convenience. My details are available on my CV and I look forward to hearing from you  .
Kind Regards,
 <<Name>>