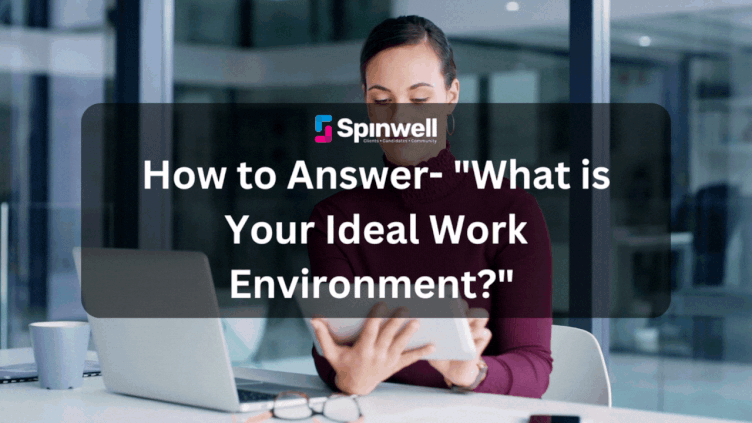 How to Answer- "What is Your Ideal Work Environment?"​
This classic question is often asked in interviews and is also one that you should consider asking yourself. In an interview setting, the question could also be reworded to 'what environment do you work best in?'
So, let's take a look at a few tips on how to address this question:
Do not be vague or stick to one definitive answer, be flexible
Example: "I am relatively flexible; I do not have just one particular environment that works best for me. I have my fair share of experience working in both remote roles and roles that involve me having to be in the office. I find that provided communication is clear, there should be an added boost in productivity and quality of work. "
Explanation: This shows that you are flexible and able to work in any sort of environment. It also shows what you value the most in your workplace: communication.
Express the Importance of collaboration and teamworking skills
Example: "To me, an environment that consists of a collaborative and strong work ethic certainly pertains to my interests. I take my responsibility very seriously to ensure that I do my best and cater to the company's growth and success whilst also making sure I do not let any of my teammates down."
Explanation: This answer comes in handy for roles that involve a lot of group work and working with other colleagues in teams. It shows your sense of camaraderie and also demonstrates a level of responsibility.
 Do your research into the company
Example: "In my opinion, an ideal work environment instils a positive workplace culture. Upon my research, I noticed how the company's vision and mission go hand in hand and align with my interests and what is important to me regarding my professional development. I also excel in environments where I get to expand my skills and learn more through on-field experiences."
Explanation: This answer shows how you have done your homework. It shows how you are eager to learn and how driven and determined you are. It also reflects on your personality and how you work well with others.
 Do not focus purely on the perks that the organisation can offer you, also focus on what you can offer them
Example: "An ideal work environment to me, is one where I feel purposeful. It is where I feel like my skills and abilities are utilised to the max, to help the company achieve their visions, missions and goals and also where I can assist my colleagues as well as learn from them. I think given the responsibilities at hand, this company is the perfect place for me to contribute to the welfare of the organisation and its successes whilst sharpening my skills."