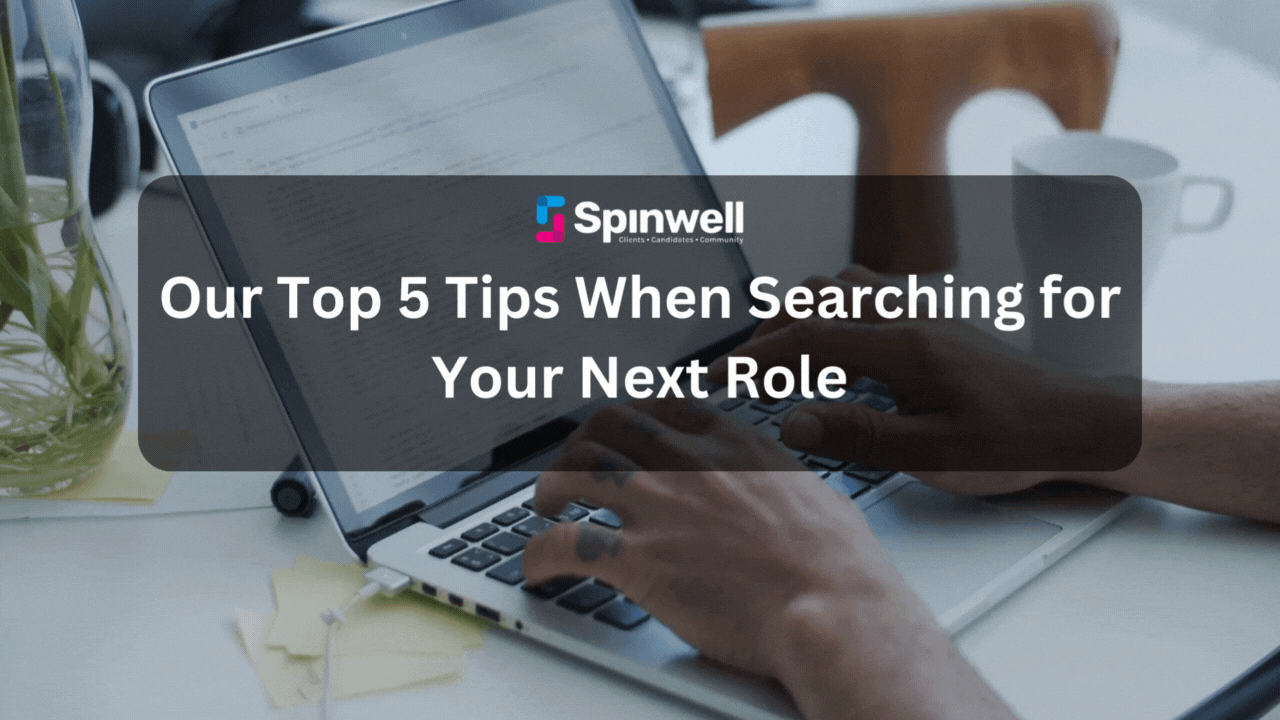 Our Top 5 Tips When Searching for Your Next Role
Here at Spinwell, we understand entirely the turbulence associated with looking for a new job – it's what we do for a living, after all! The COVID-19 pandemic has made the labour market very different from what it was, with more people seeking alternative employment or having a complete career change.
Although growth continues at an all-time high, ONS reported that the quarterly vacancy growth fell to 1.6% from 5.4% last quarter. The current job market continues to be highly competitive, but if you've decided now is the time for a change, we're here to help. Follow our recruitment experts' simple tips:
1.  Be Smart With Your Job Search – Use It to Your Full Advantage
Knowing exactly what you're looking for is fantastic, but if you're struggling to have any success, it's maybe time to broaden your search.
Hybrid and remote working opportunities widen the scope for both employers and prospective employees, offering greater work/life balance and an increasingly diverse team due to a lack of restrictions by location.
If you want to stay put where you are, consider what opportunities are available around you. Have you signed up for job alerts? It's an easy win getting applicable roles right to your inbox, saving valuable time that you can use to improve your CV!
2.  Make Use of Social Media
Social media is a great place to search for your latest role. According to LinkedIn, over 75% of people who recently changed jobs used LinkedIn to inform their career decision. Many employers advertise positions on their profiles, so don't forget to turn on your push notifications to get your application in first for any new roles!
You've heard it before, but ensuring your profiles are up to scratch is a quick task with great pay-offs. Removing all those embarrassing photos and using your profile to build connections and share your professional opinions helps build your personal brand, allowing potential recruiters to get great insight into your personality.
3.  Make Yourself the Perfect Fit
Do not, we repeat, DO NOT use the same CV for every single job application you put in. We are not advocating for you to tell lies but to tailor your CV and create a cover letter applicable to the role you're applying for! Your experience is invaluable, so it's important to demonstrate how it will assist you as a potential part of their organisation.
When considering why you're the best fit for the job, The Balance Careers suggests:
●     Highlighting your personality traits
●     Emphasising special skills & what makes you unique
●     Examples of your achievements
4.  Always Come Prepared
If you've landed an interview for your ideal role, congratulations! Job interviews can be incredibly nerve-racking, but being prepared can help ease this and additionally put you ahead of the competition.
It may seem like common sense, but taking the time to research the organisation you're applying for helps you adapt your interview answers. Another top tip here is to ensure you thoroughly understand the job description, and don't be afraid to ask for further information if you need it.
5.  Don't Forget That Follow-Up
When the interview is over, and all the hard work is done, leave things on a positive note. A quick thank-you email to your recruiter may not guarantee you the role, but it's always greatly appreciated and may make you memorable for when another role comes around.
It's not always pleasant to hear about your shortcomings, but asking for feedback if you've been unsuccessful is an important learning experience that will assist you as you continue your search. Here at Spinwell, we ensure to provide our candidates with feedback, so don't be afraid to ask your recruiter if it's not readily available.
Good luck in your job search, don't forget we've plenty of opportunities available daily