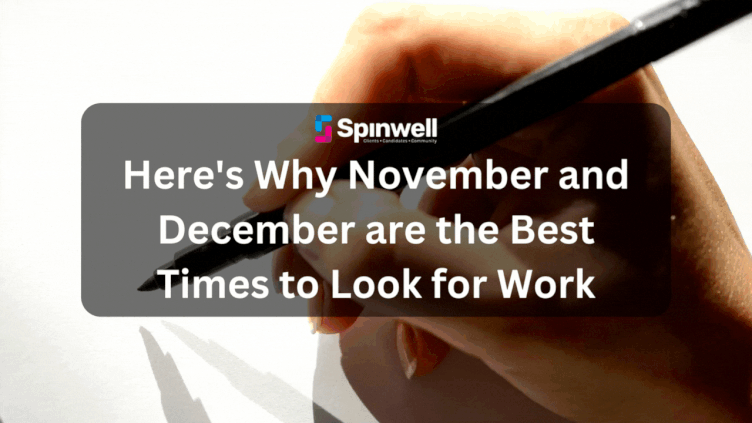 Here's Why November and December are the Best Times to Look for Work
There is no better time than November through Christmas to search for and apply for a new job. You now have more time to research various companies and job openings. It will also mean you have spare time to interact with and connect with decision-makers on LinkedIn about potential opportunities.
It is time to get ahead of your competition while everyone else goes into holiday mode. Many people will have put their job search on hold during the Christmas break, but positions still need to be filled. By getting ahead of the rest you will appear highly motivated and ready for business.
Typically, most people will either continue or start to job hunt over the new year with the mindset of a fresh start. This can lead to the job market becoming over-saturated in January. However, if you apply for a role in November or December, you will have that fresh start by the time January the 1st comes around.
In December, you will be able to integrate with co-workers during the quieter month and have the chance to go to Christmas parties and socialize. By the time it gets to January, relationships with co-workers will already have been built, meaning you will be ready to hit the ground running in the new year!
Many people will be in the same mindset of putting off applying for a new job until January. It usually means the positions people have left are now free, and employers will want these positions filled as soon as possible. This is so that the company will be prepared for the new year.
Companies will usually need to use up the rest of their budget by the end of December, or they will run the risk of it becoming wasted. So, if a position needs filling, now is the time to do so and negotiate your best price.
So now that you have gotten your reasons to kickstart that job search earlier than anticipated, why not make sure you are prepared?
Tips for job hunting and ensuring you get ahead of your competition during the festive season:
Update your CV
Ensure that your CV is up-to-date with your most recent achievements and skills. Whenever you apply for a job, you should tweak your professional profile to ensure that it covers the requirements of the job description.
Check for errors
Proofread your CV to ensure it is free of typos and grammatical errors.
Contact Details
Always include your contact details to allow the hiring manager to get back in contact with you.
Social media profiling
Keep your professional social networking sites, such as LinkedIn, up to date. Recruiters may also browse through your profiles to ensure that you are who you say you are on your CV. So, ensure that your profile represents the true you. It is probably best to keep your other personal social media accounts private.
Building a relationship with your recruiter
Recruiters are by far one of the greatest resources to have when looking for jobs. It is important to find a recruiter that specialises in your niche. Through them, you will receive opportunities that may not necessarily be available or advertised to the public.
Recruiters also provide the best interview tips as well as advice on how to edit your CV.
Be prepared for an interview
Often, candidates do not prepare for interviews until they get an invitation. You should prepare ahead of time, as sometimes hiring managers will want to act quickly, resulting in not having enough time to prepare for the interview.
If you are nervous and would like some help on how to prepare for an interview and what to expect, reach out to a recruitment consultant, they will assist you and help you prepare accordingly.